Creating Smiles, Improving Lives
In Central Texas, Austin Smiles closely collaborates with Dell Children's Medical Center's Craniofacial and Reconstructive Plastic Surgery Center and other non-profit providers, providing social-emotional program support to patients and their families undergoing treatment. Austin Smiles hosts several annual events for these children to be around their peers, so they can share their similar experiences and know they are not alone. Local programming is designed to decrease isolation, build self-confidence, and empower children to love their differences. We aim to foster emotional well-being through fun and community.
Working Locally
Austin Smiles works closely with Central Texas Cleft Care providers to provide necessary wrap-around support for patients and their families by:
Serving as a resource of information for anyone affected by cleft lip/palate and referring anyone needing assistance to the appropriate person or entity
Coordinating social and emotional programming throughout the year to bring fun and fellowship to patients and families
Offering no-cost Speech Therapy Services
Providing specialty bottles for newborns, jaw surgery kits to teens, as well as other special needs assistance. For more information about no-cost specialty bottles and jaw surgery kits please email us at info@austinsmiles.org
Connecting caregivers to parent advocacy supports, resources, and our Online Cleft Community of Central Texas
Austin Smiles currently serves the following Counties: San Saba, Lampasas, Llano, Burnet, Williamson, Blanco, Travis, Hays, Bastrop, Lee, Caldwell, & Fayette
About our Local Cleft Team
Austin Smiles works closely with Dell Children's Craniofacial and Reconstructive Plastic Surgery Center, Texas Children's Hospital Craniofacial Team, and other non-profit providers to ensure children in Central Texas who are born with cleft lip and/or palate have access to quality treatment in a positive, healing place. The multidisciplinary cleft team meets weekly to diagnose, discuss, and develop treatment plans for individual patients. The first visit may start with counseling even before a patient is born and continues through childhood and into adulthood. At the team visit, families meet with the plastic surgeon, orthodontist, speech therapist, and pediatric dentist. The nurse coordinator ensures a smooth path for every patient, from diagnosis through treatment. The craniofacial pediatrician addresses complex medical conditions that may be present. The social worker ensures that families are connected to vital resources and to each other. As patients are followed over the years, data is collected to study their long-term growth.
Cleft Surgery Care Kits
Is your child scheduled for a cleft-related surgery? If so, apply for a Cleft Care Surgery Kit today!
If possible, please apply at least one month prior to surgery. Cleft Surgery Care Kits include age-appropriate activities and comfort items for children and teens after surgery. Each kit is made uniquely based on the age, gender, and surgery of the child. Our surgery kits exist to help children through recovery and provide them with materials that encourage confidence, boost self-esteem and remind them that they are not alone on their cleft journey.
If you would like to make a donation of items to be used in our Cleft Care Surgery Kits please email Renee at renee@austinsmiles.org
*At this time Cleft Care Kits are only available to Central Texas Children
Local Cleft-Community Events
Austin Smiles social and emotional events are a unique opportunity for children born with cleft lip and palate to reflect among their peers and discuss life's challenges that only children like them can understand. These events also provide a space for caregivers to discuss the challenges of going through surgeries with their child, and ask questions about what to expect.
Camp Amigo – March
Each year, Austin Smiles hosts Camp Amigo giving young local children born with cleft lip/palate the chance to be themselves, make friends, and have a great time with other children living similar experiences. Camp Amigo is a no-cost therapeutic camp for up to 60 campers. Campers with all levels of abilities are given the opportunity to bond while enjoying the following activities: ziplining, horseback riding, fishing, photoshop, kickball, cooking classes, swimming, etc. The camp also provides an opportunity for group reflection among their peers.
Spring Event – May
Austin Smiles annual Spring Event is an event held in Central Texas in the late Spring (Locations have included The Austin Zoo, Sweet Eats Fruit Farm, The Thinkery, and Zilker Park). Our Spring Event is geared towards families of children born with cleft lip & palate. Giving families access to a fun day in the sun to talk, play, share stories, and bond over similarities.
Back to School Event – August
Austin Smiles Back to School event aims to remind children that they are never alone on their journey and that there are other kids and teens who share similar experiences with them. Going back to school can be nerve-wracking for any child, but especially so for children and teens who may feel different than their peers. Our Back to School event is held at Dave & Buster's in early August – allowing kids & their families access to school supplies, arcade games, food, and fun together!
Holiday Event – November
Austin Smiles annual Holiday Party is designed to bring together our Local Cleft Community during the Holiday Season for a warm meal, holiday activities for all ages, and family pictures. Austin Smiles provides each family with Financial Assistance for the holiday season and gifts for the whole family to enjoy.
1 in 700 children are born with a cleft lip or palate
Serving 800 children locally
Provides an unforgettable camping experience for 2 children at Camp Amigo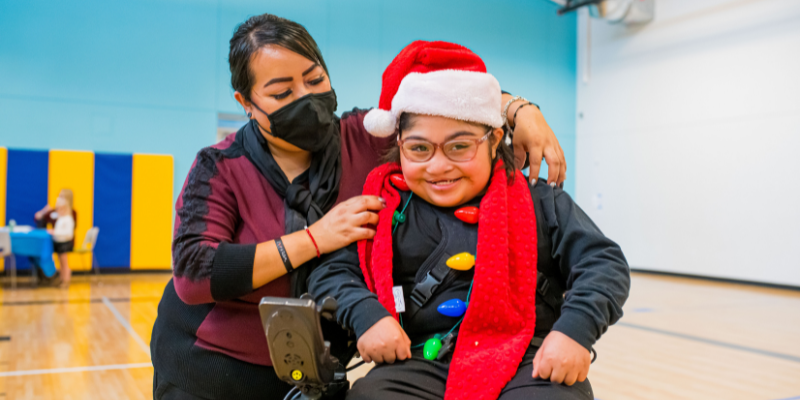 Local Events
Check out Austin Smiles Events for Families
Resources
Find useful and accurate information about Cleft Lip and Palate
Get Involved
Make an impact locally by volunteering